Thinking about selling your home?
In our Idaho housing market, we have seen outrageous population growth without the infrastructure or housing availability to match it. In essence, the high demand for housing is met with a very low supply of available homes and that creates the crazy environment that is sweeping through the Treasure Valley from Mountain Home, through Boise and Meridian to Fruitland. With all of the increase in value, especially in the recent years, we are seeing more and more people thinking of cashing out the equity in their homes by putting their houses up for sale. We have even seen some people who have lived in their home for less than a year consider putting their homes on the market! Is now the right time for me to sell? If I sell my home, do I need an agent? What does selling my home look like? READ ON!! If you have any feedback, we are always looking to grow so leave us a message or comment below.
Should I sell my home?
Before you think about selling your home you should ask yourself these questions: "Have I outgrown my home or is my home more than I want to handle?", "Has my job or work changed and what used to be an easy drive is now a commute that takes time away from family?", "Was this house supposed to be a temporary home until we were more comfortable?", "Am I ready for my first home?", "Has my life or lifestyle changed and living with my parents/roommates is no longer working?" Look! The thing is, there are so many reasons to sell your home that I couldn't think of every question! We encounter "reasons to sell my home" daily. The 'why' is typically the easiest part and you probably don't need me to convince you to sell your house. If you even mention "should I sell my home?" out loud, your Alexa®, smart watch, and Siri® will probably start blowing up your phone with blog after blog after questionnaire after advertisement plus the ever-present Dave Ramsey says!
SAVE YOUR PHONE'S BATTERY AND YOUR TIME BY READING THIS BLOG! If you finish this and are still unsure if now is the best time just remember today is a seller's market, tomorrow will be a seller's market, but nobody knows what next year will look like! Charles Dickens is quoted, "Procrastination is the thief of time, collar him!" Why wait because all of the sellers you will be competing with aren't!
Real Estate in Ada and Canyon County?
A catalog of home sales can be found here if you are hoping to see what Idaho real estate trends have been looking like but if you are hoping for a condensed history here is a wonderful image from Boise Regional Realtors®. From April of 2018 until April of 2019, the median home price in Ada county went up 12.5%.
The median home price in April of 2016 was $239,000 dollars and April of 2019 $331,000 which is an increase of 38% in median home value (read more here).



What about Canyon County?
Okay, so the cities in Ada County are growing but what about my house in Nampa or another city in Canyon County? The median sales price of a single-family home in Canyon County in April of 2018 was $206,214 and in 2019 was $244,000 which is an increase of almost 19%!
Woah! Well what about my parents that bought their home in 2006 in Caldwell? The median home price for Canyon County in April of 2016 was $160,000, so yes an increase in value of 53%.
So let's say you were someone that bought a home in 2016 in Kuna for $150,000, if you found out that your home was worth more than $210,000 would you consider making $60,000 or more? How about if your parents gave you a home in Middleton that was worth 120,000 and is now worth over $190,000??
The truth is, without enough homes for all of the people that want to live in the Boise area and with most construction taking at least 6 months to complete, home buyers are fighting tooth and nail to buy your home! According to KTVB, "the population of Boise is supposed to surpass 1,000,000 people by 2040." For you, me, and every other home owner, that means demand isn't going to slow down any time soon!
What is my home worth?
That is a great question! In fact, there is only one way to truly accurately evaluate what your home is worth. I will give you a hint, it has nothing to do with putting your address into the Zillow® database. In fact, before you type the "Z" word into your web browser, consider the following!
Online Estimators
Most of you that are probably aware that you can look up your home's Zestimate® for "free" but for any of you that have tried that, you probably realized shortly afterwards that real estate agents in the area are also NOW aware that you are considering selling your home. The Zestimate® is not accurate BOTTOM LINE! We go into detail and explain why in our video and if you haven't seen it yet take a few seconds and give it a quick watch.
Even other estimation tools like Realtor.com, Redfin.com, and Trulia.com will grab your information and use their various equations to come up with their "estimated home value" but they will never be able to calculate accurately. The computer programs will always be inaccurate because they do not take into account the smells, sounds, and layouts of a home without walking through the house.
Have you ever noticed that your assessed tax value tends to be inaccurate? (Thankfully for us!) Don't get me wrong, I enjoy paying taxes on a home that Ada County says is worth $40,000 less that what it is worth! Unfortunately for people relying on these online estimation tools, if the system uses an inaccurate number (such as the public tax records) to calculate your home's value, you could be missing out on thousands of dollars in equity when you sell at what the internet says your home is worth!
My house is wayyyy nicer than my neighbor's!
So you may be thinking, "Yeah, I know that the best way to estimate is compare to just sold property in the area." That is great! Really! You are a little bit ahead of some of those who may be relying on the internet to dictate their home's value BUT you still have much to learn young padawan! Some of my favorite objections at listing appointments is the "my neighbor Bob's house just sold for x dollars and their house is terrible compared to mine." Was your home the same age? Was your neighbor's home also a two story home with a bonus room? Did your neighbor's house have an updated kitchen, newer carpets, dual vanities, or a split floor plan? Sometimes I think that seller's forget that selling their home for a higher value helps us agents out as well! We would love to sell your home for one million dollars but listing your 2 bedroom home for 1 million dollars and having to do 6 different price changes and let the home sit on the market for 150 days MAKES US LOOK LIKE WE DON'T KNOW WHAT WE ARE DOING!!
Would you use an agent that has sold 4 houses, all of which sold for under asking price after sitting on the market for an average of 100 days?! (If you aren't researching your agent before signing documents, that is a whole other issue for another time!)
By not listing your home at market value, we are wasting your time, my time, and time is money! WHY WOULD WE TELL YOU YOUR HOME IS WORTH LESS THAN WE COULD SELL IT FOR?

The best way to find out your home's value
Undoubtedly and without any room for argument, the best possible way to find out what your home is worth is to have a real estate professional walk through the home. You should talk to your agent (if you don't have one we are always happy to help) and set up a seller's consultation. Your agent should prepare a CMA (comparative market analysis), walk through your home, and provide you with a list of suggested improvements to make your home "market ready."
This Little Home Went to Market
Once you have a price, the next step is to decide how you are going to take it to the market. Today, you are going to be solicited with all kinds of online schemes that are going to promise you savings, peace of mind, and world famous service! I can not stress it enough DO YOUR RESEARCH! Let this blog be the beginning of your search, but don't let it be the end. Online reviews, past clients, and see if you can't find another house they are listing in order to understand how they will market your home.
Before you jump all in make sure you heed the warnings and pitfalls outline below. Whether you have never sold a home before, you sell homes for a living, or you are somewhere in between, you will learn something by continuing reading!
We buy your homes fast! Cash Now!
I am sure you have heard it on the radio, seen a commercial, or driven past signs where people are broadcasting that they will buy your house with cash in order to "help you"? I see more and more marketing for investors that want to buy your home out from underneath you in order to "save you money", "save you stress", "save your commissions".
How wealthy do you think an investor would be if he paid you market value for your home? Now by all means, if your home is worth $200,000 and the investor is offering you $200,000 you would be crazy not to accept that. What does the investor gain by "helping" you and buying your home from you? A bigger question is, what kind of business survives without making profits? If they gave you, your cousin, and your neighbor a "great deal", how would they make money?

USE YOUR NOODLE!
The tale of the for sale by owner (FSBO)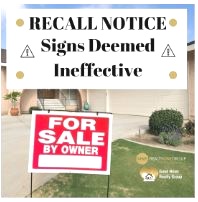 For ages, sellers have fell victim to the idea that they can save money by listing the home by themselves. Don't get me wrong, it is possible to sell your home without an agent and if that is something that you have set your mind to, POWER TO YOU! I will keep this section brief because there is too much to cover when it comes to selling your home without an agent. If you want to know more, please leave a message below.

Many sellers believe that they can get by without paying an agent but here are some truths, backed by statistics, that may make you reconsider for sale by owner. Nationwide, only 7% of homes were actually sold for sale by owner and the typical agent-assisted home sold for %132.5 the typical FSBO price. Some quick math:
FSBO decides to sell without paying selling agent's split (3% of $200k) and saves $6,000 dollars. The agent assisted home (on average) would have sold for $265k.
Would you pay $6,000 to make $65,000????
Not Convinced? Well again, you are more than capable of selling without a licensed real estate professional but do consider how you will handle the following:
-Most phone calls will be agents "previewing the home for a buyer" that really want to try and convince you to let them list your home.
-How will you handle showings, grant access to the house, and track when they leave?
-How will you know who to call if something turns up damaged or missing??
-How will you screen potential buyers and verify they have funds so that you don't get to closing and they can't perform?
-What legally binding paperwork will you use to make sure the buyer shows up at closing?



Just putting a sign in the yard and posting photos online doesn't guarantee that your home will sell, especially for top dollar. Although I am comfortable changing an outlet in the kitchen, if I were to rewire my house I would hire a professional electrician. Let one of us do the hard work for you!
"Discount Brokerages" in Idaho
More and more we are seeing more "cut-rate" and "discount brokerages" pop up in our market. These agencies have taken an approach that they believe by discounting services, they will in turn get more listings and make money on the back end.
There are also agencies that provide an "a la carte" approach to real estate where they charge a flat fee to put your home in the MLS but anything above that is an additional fee such as putting a lockbox on the property, professional photos, managing showings, or staging.
Lastly, we are seeing some brokerages offering rebates, where they return some commission to buyers when they use the same brokerage for the purchase. If you are considering going through a discount broker, I highly recommend reading The Balance's article where they warn, "You may or may not receive individualized attention and service due to increasing pressure on these low-profit companies to keep the business coming in the door."
The bottom line being, you can go to a dollar store for groceries but do you expect to get the same quality when you shop at Albertsons, Winco, or Fred Meyer's?
Finding a Listing Agent
When it comes to finding a listing agent, you should take a few things into consideration. What are the most important characteristics that you are looking for in an agent, what are your expectations when it comes to selling your home, and what needs to happen to make you feel comfortable with your home selling? Once you answer those, you may continue below.
Buying the Listing
When you decide that you are going to sell your home, beware of business practice that we are starting to see take over our market! Remember, listings are worth more than gold for agents! Other agents have started "buying the listing" which means that when they go and sit down with a seller, they present them with a number that they are going to list the home for far above market value.
What's wrong with that??
Well, when they present that number, their intention is to make the sellers believe that they will deliver a higher sold price than the other agents interviewing for the listing. The seller is so focused that this agent is somehow going to deliver thousands more than anyone else they have talked to. These crooks know that they are going to have to reduce the price down in order to get it sold, but if they "outbid" the other agents, they just bought a listing!
The longer the home is on the market, the fewer people will see it and more likely your price will continue to fall down!
Marketing your home
If you are hoping for a top-dollar bidding war, you need to increase the amount of people that look at, drive by, and walk through your home. Before your house hits the market, it is imperative that you have a marketing strategy. 50% of home buyers found their homes online, which means that if your photos and staging a subpar you are MISSING OUT ON BUYERS! Don't be THAT guy that takes photos of the property on a camera phone!
Every single home, whether it's a 1 bedroom 1 bathroom shack, a luxury home on acreage, or a high-rise condo needs to be marketed as best as possible. Why would you skimp on professional photography if that brings thousands of dollars more?? We use professional photography from Tour Factory for every single listing we have. Beyond the stunning photos, it also comes with a property website and a property spotlight video posted directly to YouTube®. All of which are to increase the amount of people that will imagine themselves in your house as their future home.
Before choosing an agent, make sure you investigate any other listings they have done in the past. If you don't think the description is enticing, the photos are captivating, and you don't take notice of their marketing FIND A BETTER AGENT!
Beyond Marketing
When it comes to selecting an agent to hire you should also keep in mind a few other things. Do you want an agent that has a high volume of listings so that you feel confident that he/she will get your house sold for top dollar? Do you want an agent that has a lower volume so that he/she will be able to dedicate more time to marketing, negotiating, and focusing on your listing? Do you want the agent to mail out postcards, hold open houses, build flyers, knock the neighborhood, or just put your home on the MLS and wait for a buyer to show up?
Make sure you find an agent that is:
-a licensed and trained professional
-experienced in your neighborhood and market
-confident in overcoming typical snags that occur in a real estate transaction
-a part of a professional network of contractors, lenders, and inspectors
An advocate for you to assure that your home will sell for top dollar and advise how, when, and why to negotiate!
That's All Folks
As the weather gets nicer, school gets out, and more people sell their homes in Idaho, you may feel like now is the best time for you put a for sale sign in your yard. If you do decide that is the case for you, please use a professional in order to help any agents that may be bringing a buyer to you! If you do decide to try and find an agent that is eager to give up his/her money for a sale, how reluctant are they going to be to give up YOUR money for a sale? If you need a real estate professional in the Boise area, we would be happy to showcase what makes us different as well as get your home ready for the market.
If you enjoyed this, please let me know with a comment or share!